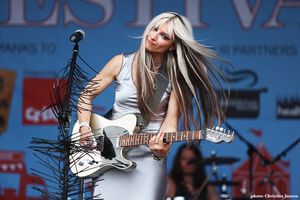 Such an awful year, with artists and musicians unable to work during the pandemic, how have you stayed afloat financially? 
I went back into teaching singing. I created a new dedicated website to promote my voice lessons https://voicelessonslondon.com 
I received some financial support from Help Musicians https://www.helpmusicians.org.uk and Musicians' Union https://musiciansunion.org.uk 
Also as a self-employed musician I was able to access the Self-Employment Income Support Scheme and got the SEISS grant. 
Has the pandemic forced you to make life changes?  And would you have made them anyway? 
As a full-time musician I'm used to gigging/busking/touring on a regular basis; that's my lifestyle and also my source of income. All that stopped since first lockdown in March 2020. 
I started playing online shows with my guitarist and fans were really supportive. I had never considered playing online shows before the pandemic struck. 
Wellbeing during the past year has been vital. Any tips for how you have kept healthy mentally and physically? 
I've always been a big believer in the mind/body/spirit connection (Mens sana in corpore sano) 
I've been cooking healthy meals, I kept up my Yoga practice and took daily walks to my local parks. I find being in nature extremely nurturing! 
I met with friends according to Government guidance throughout the different phases of this pandemic. Human relationships and doing things we enjoy in tough times like these, are key to feel positive, joyful and to react better to all the grief in and around us. In my case playing guitar, piano and singing keeps me balanced as I can express my emotions. I reckon everyone would benefit from a hobby, something to help let feelings out! 
Have you managed to keep busy with your music projects? Have you tried anything new or different? 
Yes, I kept pretty busy with music projects. You can find lots of content/news on the website. With my band we were lucky as we had just finished recording the new album when the pandemic struck. So we were able to have it mixed and mastered remotely. That was a new experience for us as we would normally physically attend the sessions in the studio. 
We also worked with a video editor friend remotely, and completed two music videos that had been recorded before the pandemic. We released the first 2 singles and official videos. We're now in the process of releasing more new music. Our other project with BJ Cole (The Twilight Zone) is also moving forward as we're mixing remotely. 
How do you see your future? Will you resume post pandemic as before, or will changes be permanent? 
I will be happy to go back to gigging and touring with my band. We're looking forward to gigs with a real crowd and we're planning a release party for the new album. 
Also I can't wait to resume singing lessons in person… that will be really nice! As for busking I'm reevaluating the amount of time and energy I spend busking versus teaching. 
Are you hopeful for the future and if so why? 
I'm hopeful about the future. I'm usually pretty resourceful and an optimist by nature. Hopefully we've all learned lessons from this tragic pandemic and had a chance to rethink about life in general and what really matters. 
Lastly, what can we look out for from you musically in 2021?  
More new singles/ videos and our new album 'Metamorphosis'! Keep up to date on http://gracesolero.com 
Music link- Spotify https://open.spotify.com/artist/76XgQHV9F2kPotwu0gbhZr 
Video link 'Lucid Dream'