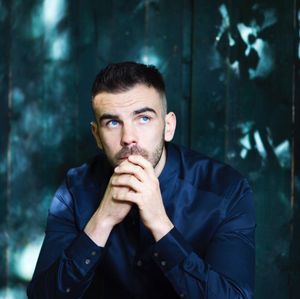 Such an awful year, with artists and musicians unable to work during the pandemic, how have you stayed afloat financially? 
I was really lucky in that my folksI welcomed me back home to Scotland during the first lockdown which helped a lot with saving up for a few months to build up a bit of a cushion. I definitely live a lot more frugally as a result of the pandemic and probably didn't realise how much of my income I spent going out to see gigs and staying involved with the scene. Luckily my diet is inexpensive to maintain because I don't eat meat or dairy and have never really minded just seeing food as fuel for the last few years. 
Has the pandemic forced you to make life changes?  And would you have made them anyway? 
Of course, to be honest it has thrown all of my career plans and what I was hoping to achieve over the last year up in the air. Where I would have hoped to attract a live agent, representation and bookings through gigging I now just have to keep releasing and hope it can help me stay in peoples' minds when things come back to normal. It's not a bad thing to have some fo the extra time for a bit of perspective but if anything the pressure to put out more material has made me a bit busier than touring an album may have made me. 
As I mentioned beef it has probably accelerated a period of me realising that I can live on a lot less and be happy going out a bit less too, one change I've really enjoyed is just seeing friends to go for a walk rather than having to have an accompanying activity that costs money such as drinking, lunch or even getting coffee. It's great to organise being social without feeling the need for an arbitrary excuse. 
Wellbeing during the past year has been vital. Any tips for how you have kept healthy mentally and physically? 
Mainly through a lot of exercise, which gives a lot of structure to a day because I've got to plan my meals around it to get the most out of it. The gyms closing in November is probably the closest I've come to snapping because going there helped me feel like there was progression in my life away from just making music and it is of course really important to have another big hobby away from what is now my job. 
Have you managed to keep busy with your music projects? Have you tried anything new or different? 
I'm really lucky that one of my close friends, Luke Maher, has access to a really good space to record in that is a short walk from where I live. We worked on my February release 'The Art of Losing You' there and are working on a host of other tracks, the next of which will be an April release called 'Hope Street'. 
Getting to spend a bit more time on individual tracks is a new phenomenon for me that I'm really enjoying, until now the process of making and album or EP has always felt rushed due to the time and budget constraints but working in this way allows me to indulge my curiosity a bit more and play around with arrangements to take tracks away from my original guitar parts. 
It's a privilege that releasing an album last year has given me because I'm now comfortable that there's a body of work for people to dig into if they enjoy what I've been doing. I'd also say that working on individual tracks allows me to explore different sound worlds without feeling as though I have to commit to one for the course of an entire record. 
Live streaming is of course a bit new as well, it can be enjoyable and it's nice to get feedback from people when they say that it gives them something to look forward to, which I think is what I enjoy most about it. In terms of a playing experience it doesn't compare to gigging in a room however. 
How do you see your future? Will you resume post pandemic as before, or will changes be permanent? 
I think the process of spending more time on individual tracks is something I'll keep up as long as the schedules of those I work with and my own finances will allow for, even when I end up making another album. 
I'm hoping things will change because I'll be able to generate more interest in what I'm doing. It feels like I've been building up to what was supposed to be a big push for the best part of a decade and the pandemic felt like having the rug pulled from under me, hopefully I can get some of the plans back on track. But what is more important is that we are all healthy and conscientious of each others needs. 
Are you hopeful for the future and if so why? 
I am, I'm hopeful that as a wider society this can have served as a period of reflection and that we value our environment and one another more. I'm also hopeful that the ability to enjoy art and culture will be appreciated and taken more seriously, similar to in countries such as France and Germany. 
Lastly, what can we look out for from you musically in 2021? 
A lot of releases and experimentation. There are so many aspects of Indie, Rock, Jazz, Freak Folk, Chamber and Baroque-Pop that I'm really excited to experiment with using the songs I've written through lockdown. I'm roughly aiming at releasing a track every six weeks so please do look out for them and follow my profile on your preferred streaming service if you're reading this!
Check out on Spotify
Check out online: https://linktr.ee/crawfordmack