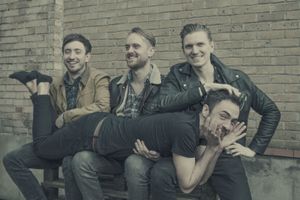 Has the pandemic forced you to make life changes? And would you have made them anyway? 
Ben: For me personally yes, it has forced some major life changes. I now live in Hamburg and have been since November. Strangely though the move is not pandemic related, although I wouldn't have been able to have moved if Covid hadn't struck so I suppose it is kind of related. However, this isn't a permanent move and I will be back in May as will the band! 
Have you managed to keep busy with your music projects? Have you tried anything new or different? 
I've found myself on furlough for the last year so it has given me an abnormal amount of time to focus on the band and writing new music. The thought of going back to work now actually makes me feel a bit sick, but sadly I know the time will soon come. I've written more songs than I could imagine (finished and unfinished) and have really delved into the world of home recording, it has also given me time to get to grips on how to market our music and has enabled me to learn programmes and software that I wouldn't have had time to do otherwise. I'm also doing a couple of live videos, of a couple of my new songs, from Hamburg in the coming weeks so keep your eyes and ears peeled on our socials! 
Wellbeing during the past year has been vital. Any tips for how you have kept healthy mentally and physically? 
Will: Well, to be honest, it's not always been easy but there a couple of things that I've been doing to tame the black dog and they seem to be working. Staying off the booze has been a big one. There has been a few occasions where I cut a little bit too loose (parole video shoot would be one of those!) but, for the most part 2020 was a very sober year...comparatively at least. 
Secondly, even though gyms have been closed, it's so important to exercise. I now have multiple apps nudging me to get up and work out. It can be tough though, especially when you're feeling low but, if you can force yourself to do it, you always feel better afterwards. 
It sounds a lot easier than it is but they've definitely help me - that being said, I've been treated for depression in the past and if you are really struggling there is no shame in getting in touch with your GP. 
How do you see your future? Will you resume post pandemic as before, or will changes be permanent? 
Well, firstly the world needs to have a bloody big blow out...like the purge but for parties instead of murder where all will be forgotten the next day. 
Once we get that out the way, we can rebuild and I think the key will be to find a good balance between healthy living and the very occasional 'sesh'. 
One thing is for sure, I can't wait to see the boys again and get back to what we love doing the most – gigs! and that does usually involve a few beers (#YOLO). 
Are you hopeful for the future and if so why? 
Joe: I'm definitely more hopeful for the future now with the vaccine rollout and how that has given musicians the 'light at the end of the tunnel' so to speak. I think we're still a while off from going back to any sense of normality but I'm definitely feeling more positive about things in general. 
Lastly, what can we look out for from you musically in 2021? 
I'm sure we'll continue to work with the guys from "Below the Surface" on bringing new content. We've already done an interview with them to promote the new E.P, as well as a 'live video gig' which you can check out on YouTube. The work that they produce is top-notch and they've already promoted some of the boys new material. We also want to get back to recording as soon as possible. The plan is to self produce and record our own material in Sam's drum studio. We want to try something a bit different for these new recordings and we're really looking forward to starting this project. 
Such an awful year, with artists and musicians unable to work during the pandemic, how have you stayed afloat financially? 
Sam: We're all lucky enough to have 'normal' jobs that we've all been able to rely on through this pretty pants time. Admittedly mine has reduced right down, and one of the lads has been put on furlough, but we've all been able to make ends meet. We're a small London based band however, so you've got to feel for those mid-sized bands out there that have given up all other income to be full-time musicians. With no gigs, no tours and the streaming industry's full consent to paying artists absolute peanuts, it's pretty bleak out there. Our heart goes out to them.