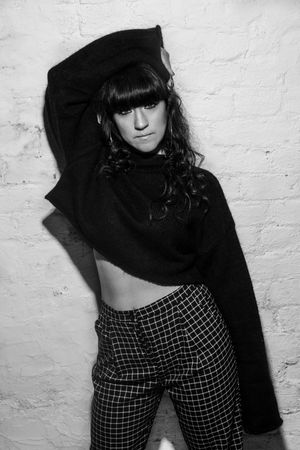 Such an awful year, with artists and musicians unable to work during the pandemic, how have you stayed afloat financially? 
I was very worried at first as a big chunk of my income is from gigs (plus I miss performing so much!). But with Universal Credit and also bits of freelance remote recording work I have been ok (thank god). Plus I think the fact that I am not going out for meals and drinks or spending money on tubes etc helps!! I also have started teaching French online (finally using my degree!) which I am really grateful I have been able to do. Longterm , it is hard to know how to plan and what I should be priotrising though…I'm hoping gigs will be back soon. But this year is looking quite bleak on that front.. anyway fingers crossed!! 
Has the pandemic forced you to make life changes? And would you have made them anyway? 
Yes it has definitely made some changes, firstly I have had to move 3 times in the last year and although it was not my decision / planned - I have now ended up in a nicer area of London and in a friend's lovely studio flat. So almost feel like it has worked out for a reason you know?. And as mentioned above, I wouldn't have thought about teaching French if it wasn't fo this, but feel incredibly grateful I had that skill in the bag to be able to make somethingout of it. I wouldn't have had the time or energy to have done that in normal life but I have been enjoying doing it so far,. But another couple of good things have come out of it…my Songwriter's podcast (where I interview top UK songwriters) - which although we had started originally in 2019 BC (Before Covid) - it developed and blossomed during the first lockdown. Recording remotely (as opposed to organising a venue, date, travelling etc), and securing guests was easier (people were more free and up for it). And now we are in association with The Ivors Academy and PRS for Music M Magazine and working on our second series (trying to get funding) but have a couple of great guests lined up already. 
I am very grateful as well that I already had recording equipment at home and have been able to carry on writing etc. have done more remote recording and writing sessions. I am also working with Rob Davis now (Kylie Minogue, Fragma, Spiller, Enrique Iglesias, Rachel Stevens etc) after he was a guest on my podcast) which wouldn't have happened if it wasn't for the podcast… 
Plus I am also now in charge of his social media accounts - so doing a bit of freelance work for his manager. 
And although I have done recording session work before - remotely and studio wise.. I have really been pushing that more and have even done some French tracks for sync etc…So that was something I have always wanted to do more of anyway - so that has been another good outcome from having the time and equipment to do more. 
Wellbeing during the past year has been vital. Any tips for how you have kept healthy mentally and physically? 
Yep, I have had some very very low points this year. I also got made redundant from my part-time dayjob as the office did did not reopen and I was already furloughed. I have felt very lost with thinking about my general life choices, gig cancellations, and of course it was very stressful moving several times for various reasons. 
And I still wonder whether I should make decisions more longterm work wise but I also really would hope things will be back to normal soon.. 
I have managed to keep up my physical exercise which is good. In the summer going for lots of runs and walks and online workouts etc. in fact this time round my mum and I do a 10am online zoom workout every day and it has meant I have seen / spoken to her more than I have in any other year! It is really nice 
Mentally- staying creative has been so great - and also staying connected with friends virtually or arranging walks with friends whenever possible. But also it is fine to have low days where I have felt unmotivated, we cant make ourselves feel guilty for that.
Have you managed to keep busy with your music projects? Have you tried anything new or different? 
Yes, I released song and video last summer which I did remotely. And tried to keepputting content up. Remote collbaborations and split screen videos. Plus when things were eased a bit I was able to get into the studio. But my album has definitely been delayed because of it. But I am still writing and also writing for sync too.. I have definitely been busy! 
How do you see your future? Will you resume post pandemic as before, or will changes be permanent? 
I dont know how to see my future to be honest, although I dont think I have ever been able to see my future as my life has never had an obvious structure… I obviously am hopeful that I will be gigging again (I was lucky to have a few gigs September and October before Lockdown 2).  So yes I am hopeful! 
But at the moment it is very uncertain when gigs will be back. But when they are - I presume that I will be wanting to go back to gigging as much as possible, those few gigs I had felt magical to be singing in the same room as my musicians again and in front of an actual audience again! - thank you again for that gig at The Bedford btw. That was my only originals gig since March last year. Performing live is and always has been a big part of who I am and what I do / love. 
I imagine that the French teaching will continue but maybe I will do less to fit around the other stuff which will come back. And I also hope that the remote recording work continues…. We shall see!
Lastly, what can we look out for from you musically in 2021? 
I'm still working on the album and will release another single soon. Plus I have a couple more tracks coming out with Rob Davis and another collaboration. I am also working on a French album for sync and library music which may get released later this year. 
Check out Louise's Music:
Different: https://open.spotify.com/track/6YA2Ak2bux0LopmeyuF6oc?si=ZeQcKPJJTHScTALlnM0lpg 
Video:
Scarlet Woman: