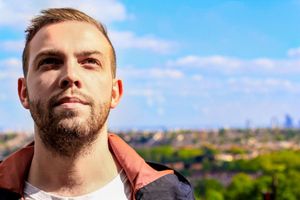 Such an awful year, with artists and musicians unable to work during the pandemic, how have you stayed afloat financially? 
This has been an incredibly tough year. I think that everyone has felt the effects of COVID 19 in one way or other. Any performance/ in person work has disappeared and I have found myself spending a lot of time on Zoom (like many others). I count myself extremely lucky to have been able to continue some of my work online. Most of this work is with hospital trust charities, providing singing sessions for people with respiratory conditions. It has been more important than ever to keep these sessions running through the pandemic, as the many of the people who attend these sessions may have only left the house a handful of times since March 2020! It's been a pleasure to put on some online concerts to raise money for these charities, to make sure that we can still offer the Singing for Lung Health sessions going forward. 
Has the pandemic forced you to make life changes? And would you have made them anyway? 
The pandemic has forced me to make a lot of life changes, including positive changes. The pandemic forced me to work a lot less and made me realise which parts of my work had more value to my wellbeing and that of others. I hope that this change is here to stay and I hope that I can be driven by a sense of positivity in my work, rather than money and the image of success. 
I have been forced to live a life of less luxury, with less eating out, going to the theatre, going to the pub and less impulse buying! These are all things that I enjoy A LOT. I wouldn't have changed this part of my life, but I will try and be more careful with my eating/ drinking/spending habits beyond the pandemic as I was just greedy before! 
The reality is, most independent artists earn money from a 'side hustle' and input these earnings into recording/releasing and promoting that material. I have had to pause recording and releasing for now, which is a shame as this process normally inspires new material, creating a lovely cycle of write-record-release-write. 
Wellbeing during the past year has been vital. Any tips for how you have kept healthy mentally and physically? 
My 'Wellbeing saver' during the pandemic has been my allotment. I've always enjoyed spending time sowing seeds and enjoying produce a few months later. It has been a great motivation driver and a good bit of exercise for me. It's amazing how you can lose a whole day on the plot and be happy about that. 
The 'singing for breathing' work I'm involved in has also been great for my own wellbeing. The sessions have a great focus on breath, mindfulness and are fun and relaxing at the same time. Even though I work hard running these sessions, I always close the 'zoom- room' with a smile on my face. 
We rescued a cat recently. I have never had a pet in my life before (other than fish). It took a long time for me to agree to have a cat in my life, but I am converted! Twinkle (the cat) can lift any bad mood! 
Have you managed to keep busy with your music projects? Have you tried anything new or different? 
All of the musical projects that I have continued through the pandemic have been music for health and wellbeing. I have struggled to focus on writing, but I have managed to get a few songs in progress and look forward to recording these when it's possible. 
I've been more inspired to spend time in my kitchen! I've taken a few baking courses and taken the time I have to focus on hobbies that I hope I to continue with when life returns to some state of normal. You can't beat fresh bread! 
How do you see your future? Will you resume post pandemic as before, or will changes be permanent? 
I can see there being big changes in the future. My 'positive self' thinks there will be a craving for gatherings, gigs, mass celebration but this could be while yet. I am prepared for a cautious few years, where everyone, including myself will think twice before making a decision or commitment. 
I hope that people will want to return to live shows post pandemic. This is one part of my life that I can't wait to resume. I can't wait to perform (in real life, not to a screen). Although working on zoom saves me time and travel, I really miss seeing people, shaking someone's hand and getting to the pub in between ☺ 
Are you hopeful for the future and if so why? 
Yes, I think we will be much more grateful for simple freedom that we took for granted pre- pandemic. Donald Trump is out of office and we have amazing scientists working so hard to get us back to 'normal'. As I said above, I hope that a craving for the freedom we have missed will lead to a rise in community spirit. 
Lastly, what can we look out for from you musically in 2021? 
In 2021 I hope to have some live shows from the summer onwards. I'm looking forward to testing out some new songs that I will record (when I have funds to do so).